AtariAge News Archive

Not to be outdone by the Atari Homebrew Awards, our friends in the Intellivision community has come together to recognize the best Intellivision homebrew games released in 2021. Don't miss this opportunity to recognize your favorite homebrews, as there's just a few days left to vote! Please head to the Intellivision Homebrew Awards forum to cast your vote. Voting closes February 6th, 2022 - 8pm CST.

Papa Pete will announce winners during a special stream Feb 11, 2022 - stay tuned! All results will be posted to the AtariAge Intellivision Homebrew Awards forum after the stream ends.

This year there are six polls, one for each category:
Game of the Year (Physical)
Game of the Year (Digital)
Best physical packaging (Box, Manual, Overlays)
Best Graphics
Best Music and Sound
Best Port
Check out this topic for videos and information on all nominees. You can vote in all the different categories in the Intellivision Homebrew Awards forum.

Discuss in our Forum with other visitors...




Voting is now OPEN for the 4th Annual Atari Homebrew Awards, celebrating the best in new Atari 2600, 5200, 7800, 8-Bit and Lynx homebrew games released in 2021! VOTE on your favorite homebrew in seventeen different categories such as Best Graphics, Best Music+Sound, Best Packaging and Best WIP! Voting closes on February 6th, so make sure you make your voice heard on your favorites!

VOTE HERE: https://atariage.com/forums/forum/203-atari-homebrew-awards/

The winners of the Atari Homebrew Awards will be broadcast LIVE February 12, 2022 on ZeroPage Homebrew with LIVE video acceptance speeches, you don't want to miss it! During the event, ZeroPage Homebrew will be announcing the winners and runners up in each of the categories along with LIVE acceptance speeches from the winners, plus much more!

Discuss in our Forum with other visitors...




We are excited to announce the arrival of several new Atari 2600, 5200, 7800, and Jaguar to the store for pre-ordering! We have a great assortment of games in this batch of releases, we're sure there's something in here for everyone! Once all the printed materials arrive, we will promptly get all pre-orders shipped in the order they were received.

Click on any of the images to jump straight to that game:
Here's a list of the games:
You can also browse our latest releases here. If you have any questions about the games or the pre-order process, please send us a message!
Discuss in our Forum with other visitors...

If you're going to be in the Nashville, Tennessee area this weekend (or you can get there!), be sure to stop by the Music City Multi Con! Atari 2600 developer John W. Champeau of Champ Games will be attending the show, with a large booth showcasing all of his amazing Atari 2600 homebrew titles as well as upcoming games currently in development. Available for purchase for the first time will be the brand new RobotWar:2684, which isn't even available yet in the AtariAge Store! RobotWar:2684 is John's latest arcade-inspired game and an amazing accomplishment on the 2600. It even supports a simultaneous two-player mode that you won't find in the arcade game! In addition, John will be speaking on several panels about homebrew games, so if you want to learn more about homebrew development and all that entails, you don't want to miss these talks.

The Multi City Multi Con takes place this weekend, October 29-31 at the Farm Bureau Expo Center in Lebanon, Tennessee. Music City Multi Con is the perfect event for the video game, comic, music, and pop culture fan. Featuring over 100 arcade and pinball machines, over 100 video game consoles, Esports Tournaments hosted by Kumite in Tennessee, and the largest Pinball tournament in the state. You'll also find tabletop gaming, a cosplay competition with cash prizes, and a kids costume contest. Plus over 12 special guests running presentations and panels all three days. Don't forget the large vendor room selling games, toys, and all the cool geek stuff you love. There will be food vendors on site so you don't have to miss out on any of the convention. Lastly, there are two huge outdoor stages and a music lineup of over 40 DJs playing all weekend. Rain or shine the music will go on since the crowd will be covered at both stages.

Discuss in our Forum with other visitors...


In lieu of many retrogaming conventions already being canceled for 2021, the AtariAge booth will be going virtual this year with AtariAge Day presented by ZeroPage Homebrew! The AtariAge Day stream takes place this Saturday, May 1st, at 12PM PT/3PM ET/7PM GMT. AtariAge Day will be filled with unboxing every new AtariAge homebrew title and interviews with homebrew developers from around the world such as:
John Champeau, developer of Avalanche (2600) & Zoo Keeper (2600)
Lewis Hill, developer of Dare Devil (2600)
Thomas Jentzsch, developer of Robot City (2600)
bluswimmer, developer of Cannonhead Clash (2600)
Todd Furmanski, developer of Dragon's Cache (7800)
Dion Olsthoorn, developer of Tower of Rubble (2600)
Ryan Witmer, developer of Magical Fairy Force (5200)
Ron Lloyd, developer of Adventure II XE (8-Bit)
Jeff Johnson, developer of Venture Reloaded (2600)
PLUS MANY, MANY MORE!




Again, the AtariAge Day stream takes place Saturday, May 1st, 2021 at 12PM PT/3PM ET/7PM GMT. You can watch the stream live at: https://twitch.tv/zeropagehomebrew. Hope you see you there!

Discuss in our Forum with other visitors...




We see many projects come across Kickstarter, and every now and then we find one that we feel would be interesting to AtariAge visitors, and in this case, those that tinkered with early home computers back in the 70s and 80s. The READY! 100 is a portable solder-free DIY computer kit that features an extruded aluminum shell that accommodates any single board computer like a raspberry pi, 4x4 x86. pico-itx or something more exotic like an FPGA board and other external devices like dongles or batteries which can now become internal!

It is a platform that brings a beautiful ultra-wide 1920x480 touch screen, 12 customizable industry standard input-outputs ports and 4 antenna ports with a full RGB backlit mechanical keyboard and a 5+5w stereo speaker system. You can use it to create a desktop enhancer, a portable laptop, a ham radio transceiver, a powerful router, a video game rig, audio/video recorder, or maybe something fun like a modernized Atari ST using something like a MiSTer FPGA! It's all up to your imagination.



An open source version of the design has been created for anyone who wants to do it at home with the appropriate 3D Printer and CNC machine. There is ample room inside the case to fit any gadgets you'd like to integrate into a single device. You can even carry it around with you via a guitar strap with the compatible side strap locks. It is designed to be easily upgradable, easily repairable, fully modular, and a little flashy. The design was inspired by the angles and bevels found in early Atari 800 systems along with other companies like the TRS-80 Model 100, and the Apple II or Commodore 64. This is a premium built enclosure designed to last for many years. The READY!OS is a free open source Linux distribution that supports the unique feature set of the READY! 100.

Please visit the Kickstarter campaign to learn more about the READY! 100 and make a pledge to support this project. You can also learn more by visiting the READY! 100 website directly.

Discuss in our Forum with other visitors...




JagStudio is an advanced development suite for the Atari Jaguar that allows you to code using Assembler, BASIC or C and is based around Reboot's powerful RAPTOR API. Regardless of your programming capabilities, beginners to advanced coders can utilize this flexible package that will fully suit the needs of anyone looking to program exciting new games for the Jaguar.

The benefits of using JagStudio are the Hardware Abstraction Layers (HALs) and the combination of external modules available to use. This allows you, the developer, to get on with writing your games while taking advantage of the Jaguar's powerful chipset without worrying about tedious, underlying mundane routines. The same results that once took days or weeks to achieve can now be done in a matter of minutes, thanks to the power of JagStudio! You are one click away from 64-bit creativity!

Some of the features of JagStudio include:
Code in your language preference of Assembly, BASIC or C. (Assembly and C are currently in Beta... help us make them better!)
Commands have been renamed (from rB+) to reflect the individual modules they control and prefixed as such: rapPrint, u235PlaySample, etc.
RAPTOR API Debug Function brings useful program variable visibility to the forefront, aiding ease of game development.
GameDrive support along with MRQ file creation.
ROM builder now adds FAST GPU depack by default for quicker startup times.
Ability to build and split ROMs up to 6MB into HI/LO for EPROM burning.
Updated both RAPTOR and U235 Sound Engine APIs to current versions, bringing additional benefits of both in a single updated package.
Added universal JagPad Input - A single call that works with either U235 or ZeroSquare sound engine so projects can be easily converted between the two should your needs change.
Many enhancements and bug fixes to the original rB+ code (eg, you can now include files >4mb, all files unpacked using GPU by default)
All documentation and examples have been updated with a simple rB+ to JagStudio conversion guide to bring your old projects over to the fully updated JagStudio.
Includes project examples for all supported languages (Assembly, BASIC and C) for anyone looking to get started quickly.
We plan on keeping this alive and active, with ongoing improvements and new features and look forward to seeing what you all make with it.
The current release of JagStudio along with any previous versions can be obtained by visiting the JagStudio Homepage. If you have any questions, please feel free to ask in the newly created JagStudio Forum here on AtariAge.

Discuss in our Forum with other visitors...




Voting is now OPEN for the 3rd Annual Atari Homebrew Awards, celebrating the best in new Atari 2600, 7800 and 8-Bit/5200 homebrew games released in 2020! VOTE for your favorite homebrew of 2020 right now in fourteen different categories such as Best Graphics, Best Music+Sound, Best Packaging and Best Work-In-Progress!

VOTE HERE: https://atariage.com/forums/forum/203-atari-homebrew-awards/

The results of the 3rd Annual Atari Homebrew Awards will be announced LIVE on the ZeroPage Homebrew's Twitch channel on February 6th, 2021 at 12PM PT | 3PM ET | 8PM GMT during a special broadcast. The winners and runners will be announced on the broadcast in each of the categories along with LIVE acceptance speeches from the winners, plus much more!!

Discuss in our Forum with other visitors...


We are excited to announce the arrival of several new Atari 2600, 5200, 7800, and Atari 8-bit homebrew games in the AtariAge Store for pre-ordering! We were aiming to have these available several months ago, but everything's moving a bit slowly this year. All the boxes, manuals, and labels for these games have been ordered, and we anticipate having everything in January. Once all the printed materials arrive, we will promptly get all pre-orders shipped.

Here's an image of all the new games:




You can click on the following links to go directly to those games in the store: You can also browse our latest releases here. If you have any questions about the games or the pre-order process, please send us a message! You can discuss these releases with other AtariAge Visitors in our Atari 2600 Forum.

Discuss in our Forum with other visitors...






This Holiday Season is about to get a lot more interesting with a new Atari Lynx Game Jam being announced...

Atari Gamer, in conjunction with AtariAge, ejagfest and Sillyventure, are bringing you this festive themed game jam to get some cheer, laughter and fun going into this Holiday Season! Your mission, should you choose to accept it, is to make an Atari Lynx game within the next 15 days, to have fun and put a smile on players' faces. There are no prizes this time around, it is just for fun and enjoyment and to show off your skills.

Full details of the Lynx 2020 Game Jam and how to participate can be found here. You can also discuss the Lynx 2020 Game Jam in our Atari Lynx Programming Forum. Have fun!

Discuss in our Forum with other visitors...


We're proud to announce the addition of three new Atari Jaguar games to the AtariAge Store, Last Strike, reBOOTed, and Brawn and Brains! We've also re-issued an older Jaguar title, Xenon 2, with an updated box and label, as well as a completely new manual! Pre-order these games today, and we'll have them shipped to you in October.




Here's a brief description of each of the new games:

Last Strike: Last Strike is a fun shooter with both horizontal and vertical scrolling levels. You must defeat the enemies you encounter while traversing each level, rescuing any stranded humans you encounter along the way. And you'll want to rescue the humans, as you earn credits that you can later use in the shop to upgrade your ship! Some of the upgrades include the Megabomb, Twin Shot, Rear Shot, Shield, Extra Life, and Speedup. At the end of each level, you'll encounter an enemy boss that you must destroy in order to proceed to the next level!

reBOOTed: From space, to the open highway, to the sea. The worlds of Reboot return in a multi-game cartridge that will make your head spin and TV explode with hours of fun! These landmark, thoroughly updated classics, can now be easily enjoyed in one cartridge! reBOOTed is a collection of seven Jaguar games on a single 6MB cartridge! The games featured in this multipack have all been given an update with new graphics, music and other additions such as Pro Controller support and cartridge saves. Some of these titles have previously never had a physical release, while others were only available on Jaguar CD or in extremely limited runs due to production costs.

Brawn and Brains: Brawn and Brains is a collection of three unique Atari Jaguar games, each from a different Jaguar developer. This collection features Dragonkeep (Lawrence Staveley), Tiles (Rik Day), and Do the Same (Matmook/Jagware). This is the first release of these games in cartridge form, offered in an economical release with cartridge and manual.

Discuss in our Forum with other visitors...


The Lynx Programming Competition 2020 has come to an end now and that means that there are new games for Atari Lynx fans to try out. This year's competition didn't draw in as many entries as the one last year, but we dare say that the quality of this year's entries is well over par!

The competition was hosted over at itch.io this time around, which provided for a much better platform for entry submissions and now opens up all the games for rating by the public. So be sure to try out each game, you can play them all online via Atari Gamer's Atari Lynx Emulator. Direct links to play the games can be found over on this page at Atari Gamer. The competition was sponsored by Atari Gamer, RetroHQ, Mark/Space: Project Argon and AtariAge.




Voting ends September 15, 2020, so be sure to try out these new Lynx games and vote for your favorites today!

Discuss in our Forum with other visitors...


Atari Gamer and RetroHQ have launched a fresh Atari Lynx 2020 Programming Competition this year with the theme of "Future", retro future that is! This is a programming competition for anyone wanting to show off their skills at coding for the Atari Lynx. If you think you have what it takes, join, submit and bask in the retro glory of this amazing console! The contest runs through August 15, 2020, after which voting for the winning entries will commence! Prizes include a Lynx GameDrive cartridge from RetroHQ, cash donated by Mark/Space, and the opportunity to have your new Lynx game professionally published by AtariAge (with five free copies of your game, along with royalties).

For more details about the contest and how you can enter, please visit the Lynx 2020 Programming Competition page at Atari Gamer. This is the second Lynx Programming contest hosted by Atari Gamer, and you can check out the details of last year's competition here - Atari Lynx 30th Birthday Programming Competition. You can discuss the Lynx 2020 Programming Competition with other AtariAge members in our Atari Lynx Programming Forum.




Good luck, we can't wait to see (and play!) all the great entries!

Discuss in our Forum with other visitors...


The new releases from October's Portland Retro Gaming Expo are now available to purchase online! In total we have nine new 2600 games, one new 5200 game, and one new 7800 title! You can click on the images below to jump directly to each game's entry in the store.




Here's a list of the new games: We also have the AtariVox+ back in stock, which is used by four of the above new games for saving high scores, as well as by Wizard of Wor Arcade to replicate speech from the original arcade game! And, finally, we've added boxes as an option for about 50 games, including last year's new 2600, 5200, and 7800 boxed releases (Dungeon II: Solstice, Mappy, Space Game, Froggie, and RealSports Curling).

Discuss in our Forum with other visitors...




The Atari Lynx turned 30 in 2019 and Atari Gamer decided to turn this event into a momentous birthday party! The Atari Gamer Programming Competition was envisaged so that homebrew developers would bring a handful of new games to the Atari Lynx on its 30th Birthday. Instead, we got eleven new games across all genre styles! This ahead-of-its-time console is getting a whole lot of presents, so join in with us in celebrations, enjoy all the new games and keep on Lynxing!

There are eleven new games for the Atari Lynx to celebrate its 30th Birthday. You can download their ROMs or play them in your web browser by following the links on this page. After you've played the games, please cast votes for your favorites! You can also discuss the games and leave comments in the discussion threads for each of these new titles in our forum. Your voice will help determine the winners!

The complete ROM package is available for download here. Inside you will find all of the original submissions, as well as a directory with converted LYX ROMs for AgaCart and a directory of ROMs and a special launcher to use with the Lynx SD cartridge. Be sure to have a look at the README.txt file for more instructions. And don't forget to vote!

Discuss in our Forum with other visitors...




We've launched a Summer Sale with 10% off all 2600, 5200, 7800 and Jaguar games (minus pre-order games) in the AtariAge Store! Now's a great time to pick up some of those homebrew games you've been eyeing but haven't yet pulled the trigger on! This sale is for two weeks only, and only applies to games, hardware is excluded. As a BONUS, any purchase of $200 or more will receive a free copy of Balloon Trip or Sheep It Up!, a $25 value!

Sale ends on Thursday, September 5th, 2019 at 11:59pm CST! Please visit the AtariAge Store for complete details.

Discuss in our Forum with other visitors...


Our friend Curt Vendel of AtariMuseum.com attended the recent Vintage Computer Festival East, where he assembled an impressive exhibit covering the Atari 400/800 computers to honor the 40th anniversary of the Atari 8-bit computer line. Bill and Anthony of the The Guru Meditation YouTube channel were given a tour of this exhibit by Curt, where he describes some of the hardware and software on display. Besides the hardware that saw retail release that Atari 8-bit computer fans are familiar with, Curt also talks about some unreleased prototypes he had on hand, such an 850 Interface Module in a black, aluminum case, an 800D (Developer) system that had an expansion bus and serial ports on the side, and a cost-reduced Atari 800 "Collette" board where everything was on the main board as opposed to the use of expansion slots. Also on display was an interactive Atari sales kiosk featuring the ERIC Laserdisc demonstrator system.

You can watch the video below:



Discuss in our Forum with other visitors...





AtariProtos.com, a website that investigates and reviews unreleased prototypes for various Atari consoles, has uncovered new Work in Progress (WIP) versions of many Atari 2600 games. Many thanks to the efforts of Ken Van Mersbergen (Dutchman2000) for obtaining access to these games and sharing them with the community, and to Matt Reichert for reviewing these prototypes and describing how they differ from the released versions of the games. Several reviews of these prototypes have already been posted, with a promise of more to follow: Also discovered is a previously unknown game called Fighter Command, found in the collection of a former Roklan programmer. Not much is known about this particular game, but one prototype cartridge has the game labeled as "Combat II", not to be confused with the sequel to Combat (called Combat Two) that Atari was working on at one point.

You can learn more about these prototypes by visiting the links above, and you can download the binaries themselves from this thread in our Prototypes forum.

Discuss in our Forum with other visitors...



AtariAge will be making an appearance at this year's Portland Retro Gaming Expo (PRGE), which starts Friday, October 18th and runs through Sunday, October 20th. We'll have a large booth near the main entrance, with a variety of new homebrew games making their debut, as well as demos of several games currently in development. Here are some of the games we're planning on making available for the first time in Portland: Demos will include Avalanche, ChaoticGrill, Deepstone Catabomb, Ninjish Guy in Low-Res World, Robot Zed, Tower of Rubble, Magicial Fairy Force, Arkanoid, and Adventure II XE.

The Portland Retro Gaming Expo is one of the largest classic gaming events in the country, bursting at the seams with video games and game-related activities all weekend long! The PRGE Retrocade opens to the public at noon on Friday, featuring 30,000 square feet of full-size arcade games and pinball machines, and the main exhibition hall (along with the arcade) will be open Saturday and Sunday. Here's an incomplete list of what you'll find at the show:
Exhibitors and Vendors selling classic gaming consoles and games
Various panels in three separate auditoriums throughout the weekend
Tons of special guests and speakers!
Huge 30,000 square foot arcade
PRGE live auction with many unique classic gaming items
Tournaments throughout the show
Cosplay contest
Please visit the official Portland Retro Gaming Expo website to learn more about the show. If you're attending the show, please stop by our booth, say hello, and play some new games!

Discuss in our Forum with other visitors...


We've recently upgraded the AtariAge Forums to a significantly newer version! This was a long time coming, and the updated forum has a wealth of improvements over the previous incarnation. Here's a brief list of some of the improvements:
Mobile - There is no longer a separate Mobile skin. Instead, all skins are now "responsive" and will display properly on phones and tablets. This means you have the full functionality and style of the forum regardless of what device you are using.
HTTPS - You can now browse the forums securely full-time using HTTPS, and this is true for all of AtariAge, not just the forums. Additionally, you can enable two-factor authentication using Google Authenticator.
Clubs - Brand new is a feature titled "Clubs", which allow users to create and manage their own communities, fully integrated with the forum. Club leaders can add new sections to their club, like forums, galleries, calendars and more. Think of Clubs as mini-forums that can encompass topics outside of classic gaming. It'll be quite interesting to watch clubs develop over time!
Activity Streams - This is a powerful new feature of the forum that lets you easily customize how you discover new content on the forum. It may seem a bit intimidating at first, but once you play around with it for a bit you'll find it quite useful. After customizing an activity stream, you can save and name it appropriately so you can easily call it up again in the future.
New Editor - The forum now uses the commercial CKEditor for posting and editing comments on the forum. This is a Rich Text editor, and there is no longer a simple text-only view. The editor shows content as it will appear when posted -- BBcode has been deprecated, and you don't need to "Preview" posts to make sure they look correct. However, you may still do so and can even preview how your post will appear on phones and tablets.
Emoji - Yes, Emoji have arrived on the forum, so you can now use the same emoji you're become accustomed to on mobile devices and tablets.
Animated GIFs - The post editor now has built-in support for animated GIFs via GIPHY. You can search from many thousands of animated GIFs and easily insert them into your posts.
Attachments - It is much easier to add attachments to posts, private messages, and elsewhere. While in the editor, simply drag and drop images or other files from your computer directly into the editor window and they will be placed where you drag them. You can also copy/paste files directly into the editor.
Easier Quoting - In addition to quoting an entire post as you could previously, now you can simply highlight text with your mouse and then click the "Quote Selection" popup to add that quoted text to your reply.
Reactions - Instead of simply "Liking" a post, you can now choose from five different reactions (Like, Thanks, Haha, Confused, and Sad). We can customize these down the road if need be based on feedback.
Tagging UsersYou can now tag someone in a post by prefixing their username with "@". For instance, if you want to tag me, you'd type "@Albert" and then choose my username from the popup that appears. This will cause my username to be highlighted in blue and I'll receive a notification that I was tagged in a post (or elsewhere).
Downloads - We'll soon be adding a Downloads section to the forum. Primarily we intend to use this to allow homebrew authors to post binaries (ROMs) for their games either during development, when a game is completed, or both. Game binaries are organized by system (2600, 5200, 7800, etc.), and broken down by Homebrews, Hacks, Demos, and In Development, depending on the system.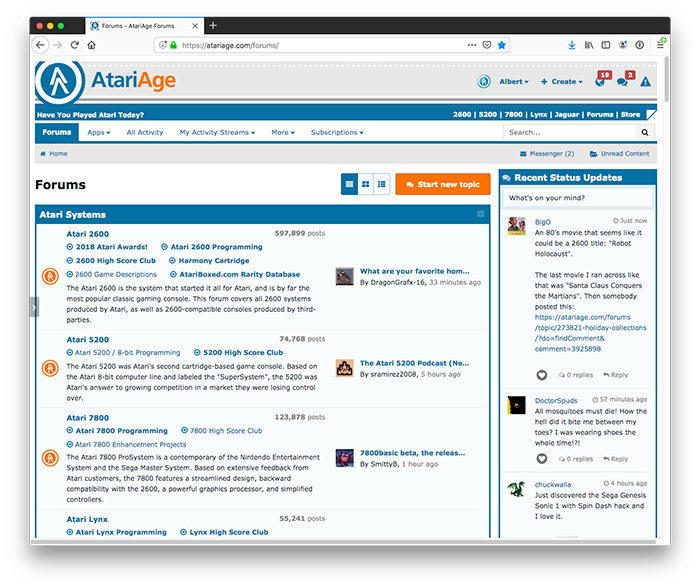 If you're an active user of the forum, please consider purchasing a subscription. It's very time consuming to keep AtariAge online, and it's also expensive as AtariAge is run on two dedicated servers--one serving the web pages and another devoted to the databases. On top of that we have a third server used for development, on which we also provide free hosting for several classic gaming-related sites. These dedicated servers run over $600 a month, and there are also various software-related expenses involved as well (such as the forum license, which is over $200 a year). The upgrade for the forums and moving AtariAge to a new web server during this process cost roughly $2,500. We do not presently have ads on AtariAge, but it is something we've considered doing to help offset the costs and time involved. We'd prefer not to go that route, though!
Important! If you are UNABLE TO LOGIN to the forum after the upgrade, please make sure you login with your display name. If you had a login that was different than your visible name on the forum, it will no longer work (these were eliminated). You can read more information about this upgrade as well as leave feedback in our Announcements Forum.

Discuss in our Forum with other visitors...

1 2 3 4 5 6 ... 84 Next